Your baby gets a good night's sleep. As a result, so does the whole family.
Rest assured your infant is sleeping safe and warm.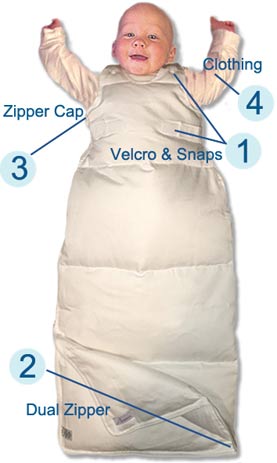 1. Adjustable snaps allow for growth. Velcro side fasteners also ensure a secure waist.
2. Our dual zipper system provides the option for added ventilation as well as easy diaper changes.
3. Protective zipper cap adds under the arm comfort.
4. Your infant stays warm in the sleep sack with just a long sleeve shirt & diaper.
Choose your Kangapouch sleep sack or toddler duvet.